In Stile Moderno:
Virtuoso Music from the Seicento and Beyond
Featuring The Newberry Consort
Program
Sonata sesto a doi, Libro secondo …… Dario Castello (ca.1590-ca.1658)
Amarilli mia bella …… Giulio Caccini (1551-1618)
Amarilli di Julio Romano (Variations on Amarilli mia bella) …… Peter Philips (1561-1628)
Canzon del Mortara detta la Porcia …… Francesco Rognoni (d. 1626)
Ancor che col partire …… Giovanni Bassano (1560-1617)
Exultate Gaudete …… Pietro Andrea Ziani (1616-1684)
Toccata prima …… Girolamo Frescobaldi (1583-1643)
La Hiacintina …… Giacinto Bondioli (1596-1636)
Girate occhi, girate a miei …… Angelo Notari (1566-1663)
Sonata quarta …… Biagio Marini (1594-1663)
Jubilate Deo …… Claudia Francesca Rusca (1593-1676)
Amarilli, mia bella,
Non credi, o del mio cor dolce desio,
D'esser tu l'amor mio?
Credi lo pur, e se timor t'assale,
Prendi questo mio strale,
Aprim'il petto, e vedrai scritto il core: Amarilli, Amarilli, Amarilli é il mio amore.
My beautiful Amaryllis,
Don't you believe, o my heart's sweet desire,
That you are my love?
Believe it thus, and if fear assails you,
Take this arrow of mine,
Open my breast, and you will see written upon my heart:
Amaryllis, Amaryllis, Amaryllis is my love.
---
Ancor che col partire
Io mi sento morire
Partir vorrei ogn'hor, ogni momento,
Tant'è il piacer ch'io sento
De la vita ch'acquisto nel ritorno.
E così mill'e mille volt'il giorno
Partir da voi vorrei, Tanto son dolci gli ritorni miei.
Even though in parting
I feel as though I am dying,
I would leave every hour, every moment,
So much is the pleasure that I feel
From the life that I gain upon the return.
And so a thousand, thousand times each day
I would part from you,
So sweet are my returns.
---
Exultate, gaudete, jubilate laetamini,
Exultate esurientes, jubilate sitientes,
festinate agni, properate cervi,
festinate exultantes properate jubilantes,
curite ad pascua, festinate ad fontes.
Ecce panis, ecce potus angelorum,
properate, festinate [sataramini] esurientes, inebriamini sitientes, ecce panis, ecce potus angelorum.
O bone Jesu, o care Jesu
accende me, inebria me,
o bone Jesu.
O bone Jesu, o care Jesu
accende me, combure me,
satura me, inebria me.
O bone Jesu o care Jesu
exaudi me, intra tua vulnera absconde me.
Satura me, inebria me,
O bone Jesu, o care Jesu,
Exaudi me.
Amen.
Exalt, rejoice, delight and be glad,
Exult, you who are hungry; delight, you who have thirst; hurry, deer; make haste, lambs, hurry and exult, hasten to rejoice,
Run to the pasture, hurry to the fountains.
Behold the bread, behold the drink of angels,
Hasten, hurry to sate yourselves; get drunk, thirsty ones, behold the bread, behold the drink of angels.
O good Jesus, o dear Jesus,
Alight me, intoxicate me,
O good Jesus.
O good Jesus, o dear Jesus,
Alight me, inflame me,
Satiate me, intoxicate me.
O good Jesus, o dear Jesus,
Hear me, hide me in your wounds.
Satiate me, intoxicate me,
O good Jesus, o dear Jesus,
Hear me.
Amen.
---
Girate occhi, girate
a miei che tanto pregano
Gli sguardi che non piegano
Giamai verse pietate
Che se da lor si tolgono
Occhi, a ragion di dolgono.
In sul mattin d'Aprile
Quando i nembi tranquillano
Fresche rose sfavillano
D'un vermiglio gentile
E così dolce odorano
Che zeffiro inamorano.
Vergini peregrine
Come lor s'avvicinano,
Così liete destinano
Farne corono al crine;
Al crine, onde incatenano
I cor, ch'a morte menano.
Turn your eyes, turn them
to mine, which so implore
the gazes that never soften
in mercy toward my own,
but that if torn away from
my eyes, is reason for grief.
On an April morning,
When the clouds are calm,
Fresh roses sparkle,
Softly vermillion,
And so sweet is their scent
That Zephyr falls in love.
Lovely maidens
As they approach them
Happily decide to crown themselves
With garlands for their hair;
The garlands that bind
The heart, and lead us to death.
---
Jubilate Deo, omnis terra;
Allelujah,
Psalmum dicite nomini ejus;
Allelujah,
Date gloriam laudi ejus,
Allelujah.
Rejoice in the Lord, all the earth;
Hallelujah,
Sing praises in honor of his name;
Hallelujah,Give glory to his praise; Hallelujah.
The Newberry Consort
Organization & Artist bios for In Stile Moderno
Jason J. Moy
Alice Culin-Ellison
Nathalie Cole
Liza Malamut

---
Guest Artist Biography
(click each title below to read)
The Newberry Consort brings together singers and instrumentalists of the highest caliber to create historically informed performances of music from the Middle Ages, the Renaissance, the Baroque, and beyond. By integrating historical performance and research with contemporary themes and multimedia, the Newberry Consort inspires audiences, musicians, and scholars by providing a window into earlier times and diverse cultures.
Founded in 1986 by musicologist Howard Mayer Brown and early music pioneer Mary Springfels, The Newberry Consort, "Chicago's gift to the early music world," (the Boston Globe) began as the Newberry Library's ensemble-in-residence and has offered an annual concert series in Chicago since 1988. The Consort has recorded ten albums and counting under the Harmonia Mundi and Navona record labels, including Music for Several Friends, I Have Seen the Map of the World, and Missa lo Mappa Mundi. Most recently, the Consort recorded Juan de Llienas's Vespers, featuring Baroque music for women's voices and instruments. The Consort has been sought after at music festivals and series all over the world, including the Regensberg, Boston, and Utrecht Early Music festivals, and it has been in residence at the University of Chicago, Northwestern University, and is currently the ensemble-in-residence at Roosevelt University. The Consort continues to uplift Chicago's early music community through mentorships, teaching, and engagement of local artists.
Jason J. Moy is the Artistic Director of Ars Musica Chicago, and one of the most sought-after harpsichordists in the Midwest. He is on the faculties of the University of Wisconsin-Madison's Mead Witter School of Music, the Chicago College of Performing Arts at Roosevelt University, and at DePaul University here in Chicago, where he was awarded the School of Music's first-ever endowed chair as the Monsignor Kenneth J. Velo Distinguished Professor of Music. Jason received his Early Music training at McGill University and counts Hank Knox, Ketil Haugsand, Andrew Lawrence-King, and the late Bruce Haynes among his most influential mentors and teachers. He is a founding member of the award-winning period instrument ensemble Trio Speranza, principal keyboardist of the Bach Week Festival Orchestra, and a frequent guest artist with the Newberry Consort, Grant Park Symphony Orchestra, Cincinnati Symphony Orchestra, Wisconsin Chamber Orchestra, Illinois Symphony Orchestra, and Bella Voce. www.jjmoy.com
Violinist Alice Culin-Ellison is a founding member of Incantare, An Ensemble of Violins and Sackbuts, which focuses on musical and cultural connections of under-explored musicians. She performs regularly with the Indianapolis Baroque Orchestra and Chatham Baroque, among others, and was the Artistic Director of Bourbon Baroque from 2017-2022. Also passionate about education and scholarship, her research focuses on 19th-century American chamber music, with a special interest in music from Kentucky, and she has lectured and given masterclasses on Historical Performance. Alice received her Doctorate from Case Western Reserve University in Historical Performance, and also holds degrees from the University of Michigan and Indiana University. When not pursuing her passion for music, Alice is the keeper and grower of many house plants, and enjoys hiking, cooking, and paddleboarding. www.aliceculinellison.com
Hailed for her "floating, silky" "luminous soprano" and deemed "a standout in acting and voice" as well as "hypnotic (Chicago Classical Review), Soprano Nathalie Colas is a versatile and curious musician, artist, producer and music advocate. She is a current soloist and co-founder of Third Coast Baroque, Liederstube, and new music ensemble Fonema Consort. She has been featured as a soloist with Music of the Baroque, Haymarket Opera Company, the St Louis Bach Society, Valparaiso Bach Institute and Symphony of Oak Park and River Forest. A passionate educator, Ms. Colas teaches voice at Concordia University Chicago in Oak Park and Triton College in River Forest, where she also serves as director of Choral Activities. She is a regular guest of music colleges for her expertise on Mélodie Française. A graduate of DePaul University School of Music and of the Brussels Royal Conservatory, she completed her opera training at the Swiss Opera Studio/Hochschule der Kunst Bern, Switzerland. Nathalie was born and raised in Strasbourg, France.
Liza Malamut is thrilled to begin her first season as Artistic Director of The Newberry Consort. A trombonist, researcher, and educator with experience throughout the United States and abroad, she can be heard on the Musica Omnia, Naxos, Hyperion, and other labels. She has performed with premier period instrument ensembles at international venues all over the world, including Carnegie Hall, Washington National Cathedral, Warsaw Philharmonic Hall, and the Chiesa di San Rocco. In 2018 she co-founded Incantare, an ensemble of violins and sackbuts formed to highlight music of lesser-known and marginalized composers and their contemporaries in early modern Europe. A passionate teacher and researcher, Dr. Malamut's academic work was supported by an American Dissertation Completion Fellowship from the American Association of University Women, and she co-edited and contributed to the recently published book Music and Jewish Culture in Early Modern Italy: New Perspectives. She holds a Bachelor of Music degree in Trombone Performance from Eastman School of Music, where she studied trombone with John Marcellus, and a Master of Music degree from Boston University, where she studied with Don Lucas. She earned her Doctor of Musical Arts degree in Historical Performance from Boston University, where she studied with Greg Ingles. Her dissertation, a method book for modern trombonists, integrates historical techniques with mainstream playing and introduces eighty-eight solo etudes for trombone transcribed from historical sources.
She currently teaches historical trombone at Indiana University.
---
Program Notes
(click each title below to read)
The Seicento, simply defined, is the Italian word for the seventeenth century. In cultural terms, though, it refers to a period defined by scientific advancement, philosophical exploration, and mechanical and artistic adventure. In music, composers began to shift away from strict note-against-note counterpoint and began to experiment with contrasting dynamics, drastic changes in tempo, and the wild world of dissonance. Referred to as the stile moderno, or the "modern style," the resulting music opened up new vistas of emotional expressivity and technical virtuosity.
The stile moderno was coined by Giulio Caccini, a voice pedagogue whose famous teaching manual Le Nuove Musiche marked a turning point in vocal style. Prior to this work, singers and instrumentalists used diminutions—the practice of improvising or ornamenting a pre-composed melody by breaking longer notes into shorter ones—to enhance the music. In diminutions, ornaments are long, fast-moving, and fluid, evoking the shapes of hills and valleys. A beautiful example of this is Giovanni Bassano's diminution on Cipriano de Rore's haunting chanson Ancor che col partire. Caccini moved away from these flowing passaggi and introduced shorter ornaments called graces. The modern style used these graces to emphasize the emotional impact of a work. This is wonderfully demonstrated in the famous aria Amarilli mia bella.
Other composers were exploring new ways of using the expressive capabilities of instruments. The trombone had already been popular since the late fifteenth century because of its technologically advanced double slide. Since there were no keys or valves yet, the slide made the trombone the only brass instrument of its time capable of spontaneously adjusting to any note, pitch, or temperament. As a result, trombonists were included in nearly every type of ensemble through the seventeenth century, from vocal consorts to chamber music, and composers made no distinction between the virtuosic capabilities of the slide, the bow, or the human voice. This is perhaps no better illustrated than in the music of Dario Castello, whose flashy sonatas push the player to extremes of technique and emotional expression.
The violin, by contrast, was a new player on the scene. Until the seventeenth century, the cornetto—an instrument made of wood with a cup-shaped mouthpiece and holes like a recorder—was the star of the show. However, composers such as Biagio Marini wrote music that brought the violin into the forefront of the new instrumental style. His works require the violinist to explore new techniques such as double-stops, or the practice of playing two notes at once. The ambitious Sonata quarta demonstrates many of Marini's violin innovations, as does the more conservative duet for violin and trombone by his uncle, Giacinto Bondioli.
Rebecca Cypess, whose scholarly work has profoundly influenced modern performances of this music, has noted that even these newer instrumental techniques are rooted in vocal practice—indeed, that the vocal ornaments and graces used to express profound emotion are paralleled in instrumental music. Examples of this overlap can be found in Francesco Rognoni Taeggio's diminution Canzon del Mortara detta la Porcia, the only solo diminution based on an instrumental work; Angelo Notari's Girate occhi, girate a miei, a spritely canzonetta for two soprano voices performed with soprano and violin; and Pietro Andrea Ziani's Exultate gaudete, a sacred vocal duet performed with voice and trombone.
Keyboardists played a major role in the Seicento. Perhaps the most versatile musicians of all, they appeared as soloists, accompanists, and basso continuo players in various capacities throughout Italy and beyond. The foundation of the ensemble, keyboardists would play the lowest note of the music along with its harmonic accompaniment. At the turn of the seventeenth century and after, organists and harpsichordists played a crucial part in accompanying the new monodic style—that same style as expressed by Caccini in Amarilli mia bella. Much of this playing was improvisatory—an observer would only see a single line of music, sometimes punctuated by figured bass numbers. Keyboardists also joined their instrumental counterparts in expressive and virtuosic playing. This included variations on popular melodies, such as Peter Philips's variations on Amarilli mia bella, and the toccata genre, magnified by the innovative composer Girolamo Frescobaldi. Frescobaldi epitomized the inventiveness of the stile moderno. As noted by scholar Alexander Silbiger, he took traditional forms and "played with them, confronted them, crossed them, recreated them, and turned them upside down." Toccata prima is just the start of his vast collection of surviving works.
Jubilate Deo, by Milanese nun Claudia Francesca Rusca, brings all of these elements together. The trombone joins the keyboard to become part of the continuo section, the soprano voice weaves beautiful textual lines, and the violin plays a virtuosic obligato line to enhance the vocal text. The music communicates, for all its playful inventiveness, an ornate yet refined beauty that will eventually herald the high Baroque era.
---
Concert Sponsors
Thank you to our Concert Sponsor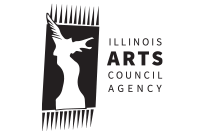 Upcoming Concerts & Events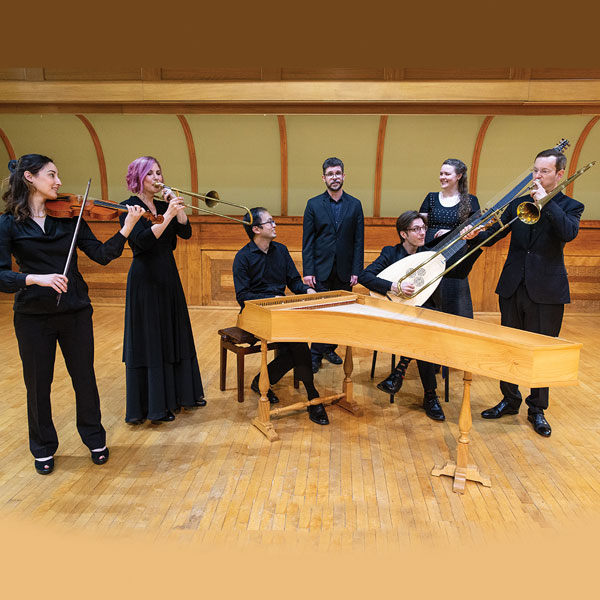 Featuring The Newberry Consort
In-Person:
January 30, 2023 at 7:30pm
First Congregational Church of Dundee
900 S 8th St, West Dundee, IL
$20/$10 Students
Virtual:
Tue, Jan. 31, 2023 – Tue, Feb. 14, 2023
$20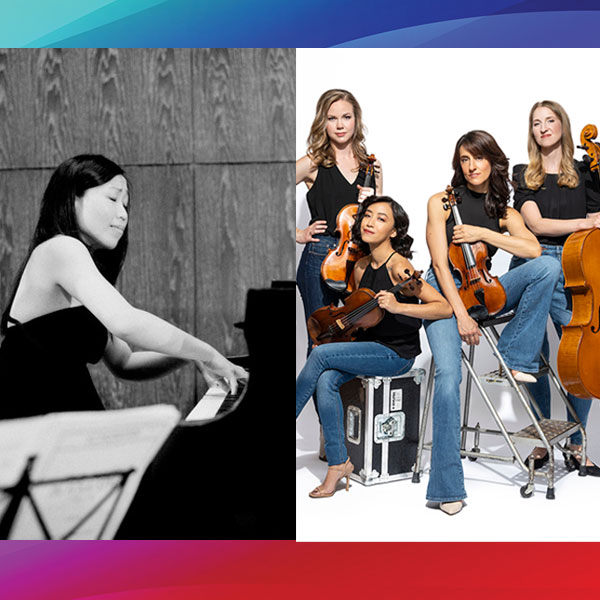 Featuring Kaia String Quartet and  Liang-yu Wang, piano
In-Person:
Sunday, Mar. 12, 2023 at 7:30pm
New England Congregational Church, 406 W Galena Blvd., Aurora, IL
Monday, Mar. 13, 2023 at 7:30pm
First Congregational Church of Dundee, 900 South 8th Street, West Dundee, IL 60118
$20/$10 Students
Virtual:
Tue, Mar. 14, 2023 – Tue, Mar. 28, 2023
$20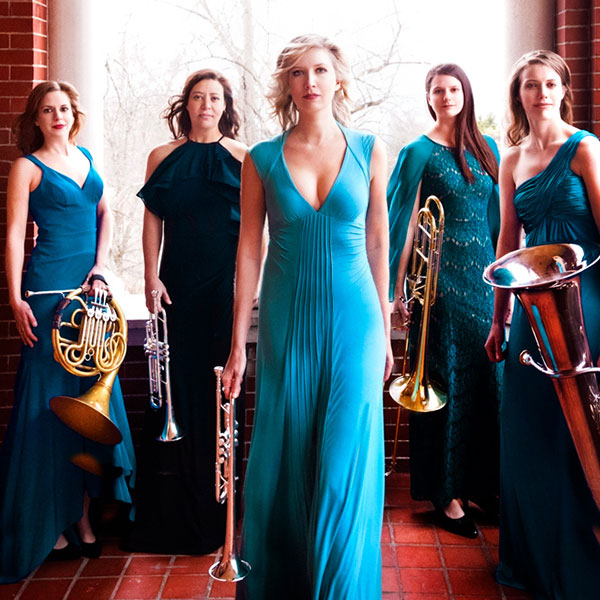 Featuring Seraph Brass
In-Person:
Sunday, April 30, 2023 at 7:30 pm
New England Congregational Church, 406 W Galena Blvd., Aurora, IL
Monday, May 1, 2023 at 7:30 pm
The Ashbury, 1 Douglas Ave., Elgin, IL
$30/$15 Students
Virtual:
Tue, May 2, 2023 – Tue, May 16, 2023
$30