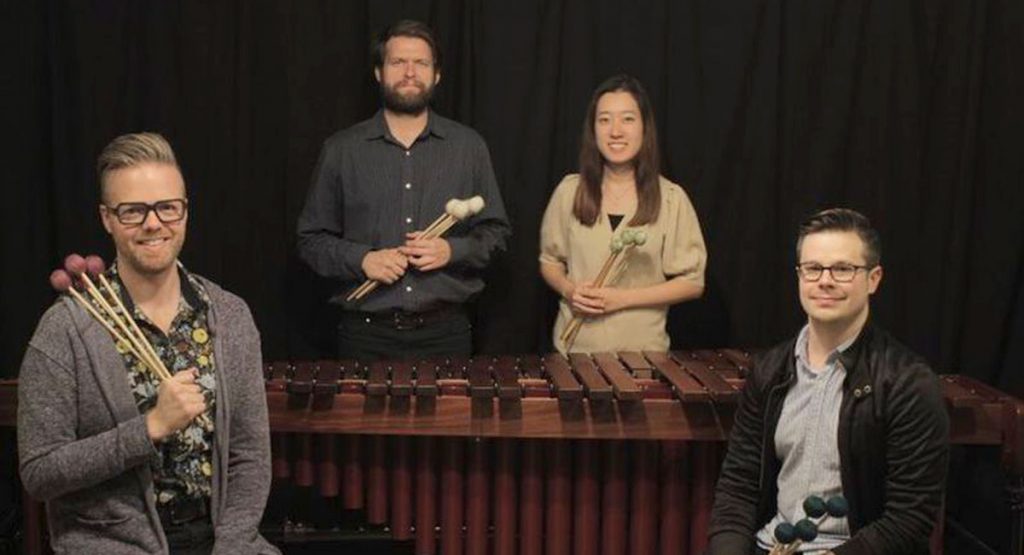 Chances are, you've never heard four marimbas in harmony live before. Or at all.
Here's your opportunity when the Heartland Marimba Quartet performs at 7:30 p.m. Feb. 24 at Imago in Elgin, hosted by Chamber Music on the Fox.
"There are many great pieces for marimba quartet," said Matthew Coley, marimba artist. "When compared to string quartet music, it really isn't that much, but for the percussion world, it has become an independent genre."
One that is growing, thanks in part to the instrument's unusual sound.
"The marimba is unique in that the sound is produced from one organic object: Central American rosewood," Coley said. "It is true that in order to amplify the sound and manipulate the sound for concert performances, there are resonators added, and we use mallets."
The resonators below each rosewood bar are tuned to the pitch of the bar and reinforce the pitch frequency for more volume and sustain, and the mallets alter sound quality and volume.
"Each marimba bar is carefully chosen from high-quality rosewood and cut and tuned to maximize the resonance inherent in the wood," Coley said. "One marimba can have rosewood from 40 different trees across Belize." Overtones are tuned carefully in the bar to bring things into acceptable intonation for classical music.
"The sound tends to attract most people immediately," Coley said. "In general, and in prime acoustic spaces, it can seem to envelop the listener and give a peaceful aura with the mellow, dark, woody and earthy qualities."
Different mallets and performers can vary the sound widely.
"But in combination with the movement of playing the instrument and the sound that wells up from underneath the room, the marimba always seems to engage audiences intensely," Coley said.
The quartet will perform a variety of music, including a work for the quartet composed by Coley entitled "Rivers of Rage Concerto."
"This piece is my political commentary on the state of politics in the last three years," Coley said. "It has three movements: 'I. Devil's Throat,' 'II. Turbulence' and 'III. Caustic Erosion,'" Coley said. "We will only perform 'Turbulence' on this concert as movement I requires a marimba orchestra to join us, and movement III requires a percussion ensemble."
The entire work will premiere with the Millikin University Percussion Ensemble Feb. 23 in Decatur.
Other selections on the program include "Marimba Quartet" by Michael Burritt, one of Coley's teachers at Northwestern University, and "Grande Tarantelle" by Louis Moreau Gottschalk.
"This was originally a piano piece by an American composer — I've created a marimba quartet version," Coley said. "And finally, we have music by Joplin and Billy Joel on the program, as well as a famous piece in the percussion world, 'Omphalo Centric Lecture' by Nigel Westlake."
Established in December 2016, the quartet is now in its fourth performance season together. The players are Christina Cheon from Irvine, Calif.; Michael J. Jones from Dallas; Joe Millea from Phoenix; and Coley from Waterloo, Iowa.
"All programs are tricky in that we always want to make sure the audience leaves wanting more marimba," Coley said. "We try to make sure we combine a set of works that will send the listener on a journey. They get to experience familiar tunes, or accessible pieces, but also we help them to hear new things and experience more modern music, which is most representative of the world they live in."
Heartland hopes to create new marimba fans wherever it goes.
"It's a balancing act, since the marimba is such a newcomer on the classical scene — only about 90 years so far — and marimba quartet even less, maybe 30 years," Coley said.
"String instruments and piano hold such a high position in the chamber music scene that some audiences may be skeptical of a marimba group from the start, so we have to win them over and give an exciting show, without sacrificing our standards by doing only novelty pieces or primarily transcriptions of familiar classical pieces."
The musicians have to keep proving themselves and their instruments.
"It's always a test for us, and we play with expression, impassioned physicality — even after setting up four 8-foot massive instruments — sensitivity, grace, aggression and excitement, all up to the last note and then look up hoping people will want to hear more marimba tomorrow," Coley said. "Other instruments don't have to worry about this."
The marimba is the new kid on the block.
"The history and tradition says those instruments have all passed the test, but that has not happened for marimba yet," Coley said. "That's what we're doing — we're convincing everyone to keep us around. Now, we just need to save the rainforests so we can have rosewood for future decades, too."
Jen Banowetz, freelance reporter for the Courier-News.
Read the full article here.